"As a unique malware detection and threat intelligence data platform, PolySwarm's crowdsourced model substantially improves the ability to explore, enrich, and mine malware data, which directly benefits the infosec community. Qi An Xin is excited to partner with PolySwarm to continue to innovate" Liejun Wang, Director of Threat Intelligence at QiAnXin.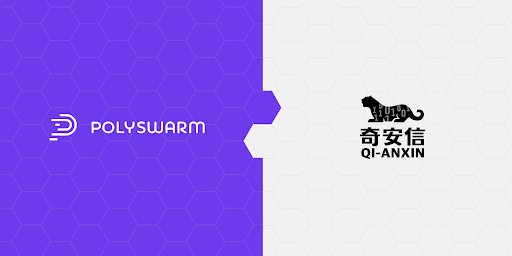 QiAnXin has integrated with Polyswam its RedDrip APT scanner (RAS), a detection engine with the ability to scan files and determine the APT group behind the attacks. RAS engine uses a custom file that contains malware patterns to identify the corresponding APT Groups. The insight comes from monitoring and tracking conducted by the RedDrip Team researchers and analysis systems.

"We welcome Qi An Xin as a new participant in PolySwarm's marketplace. We strive to bring specialized engines that contribute to the ecosystem, and Qi An Xin's RedDrop APT scanner brings unique insight into Chinese malware and the actors behind them" stated Steve Bassi, CEO of PolySwarm.

About Qi An Xin
Qi An Xin Technology Group Inc is a fast-growing cyber security company in China, specialized in providing cybersecurity technologies, products, and services for government, enterprises, military, education, finance, and other organizations. Qi An Xin Group is also the official sponsor of cyber security services and antivirus software for the Beijing Organizing Committee in the 2022 Olympic and Paralympic Winter Games.

About PolySwarm
PolySwarm is a crowdsourced threat intelligence marketplace, that provides a more effective way to detect, analyze and respond to the latest threats, the ones more likely to go undetected by existing solutions. We are a launchpad for new technologies and innovative threat detection methods, where commercial solutions and specialized engines compete to detect threats and get compensated based on performance. For more information, please visit polyswarm.io or try PolySwarm free at polyswarm.network.