The Telegram messaging app is used by over 200 million people around the world and has proven to be a great communication vehicle for individuals and companies. Unfortunately, Telegram is also an attractive target for bad actors looking to exploit the platform and people. From cryptocurrency stealers and miners, Telegram has seen its fair share of scams.
Now, Telegram users and channel moderators can use a free tool, the PolySwarm Scanbot--created by threat detection and intelligence company PolySwarm--to stay protected from malicious content.
The PolySwarm ScanBot can be added to Telegram groups where it will proactively scan and render verdicts on whether the materials being shared in the group are malicious. Once added to a group, the ScanBot will notify members when something malicious has been detected, and with admin permissions, it will delete the post. Individuals can also directly submit suspect material through a private message with the bot, and get details and warnings about the artifact.
PolySwarm's assertion (meaning answers on whether or not the file or content is malicious) is pulled directly from PolySwarm's platform where a crowdsourced network of antivirus companies and individual security experts' scanning technologies work in real-time to automatically detect threats. Rather than one source, PolySwarm aggregates verdicts from over 30 sources--both established antivirus companies and niche, specialized security experts--to provide protection against potentially malicious content.
"The security team here at PolySwarm is constantly thinking of ways to make it easier for people to tap into PolySwarm's threat detection capabilities," says PolySwarm Co-Founder and CSO Ben Schmidt. "We built the ScanBot as an easy and automated way for our own Telegram chat group users to submit potentially malicious files, and help them feel safe and secure when in our group. It became clear that it was a really useful tool that we should make available for everyone. Telegram is the first platform the PolySwarm ScanBot is available, but we plan on rolling it out elsewhere soon."
[Photo pictured below: The PolySwarm ScanBot recently caught and blocked malware being spread via a spam bot in one of PolySwarm's Chinese language Telegram channels. This is just one example to show how it looks while in action.]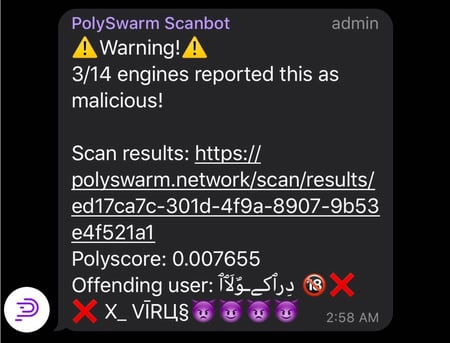 The Collective, a company that manages over 400 telegram channels, is using PolySwarm ScanBot across multiple channels, and adding it to more every day. "Having the PolySwarm threat detection bot in our Telegram channels enables our community to communicate and collaborate with confidence," says David Payton, COO of The Collective. "We have seen our fair share of malicious bots and schemers on Telegram, so we are happy to have this free tool that gives us and our community a layer of security. "
Anyone can try the PolySwarm ScanBot by going to Telegram and searching for @PolySwarmBot. From there, it can be used individually, or added to a group.
PolySwarm (polyswarm.network) can be used directly by security professionals seeking an enterprise-level automated detection and threat intelligence tool. Subscription information here.
###
ABOUT POLYSWARM:
PolySwarm (NCT) is a threat detection marketplace where anti-malware software, authored by antivirus companies and specialized security experts, compete to detect threats, millions of times per day. With a global force of security experts and antivirus companies combining at a single access point, accuracy and early detection are rewarded and enterprises get protection against new and emergent malware. (PolySwarm utilizes blockchain to record all detection-engine results, or "verdicts," ensuring performance is transparent, authentic and immutable.)
For more information, please visit polyswarm.io or try PolySwarm free at polyswarm.network
MEDIA CONTACT:
hello@polyswarm.io