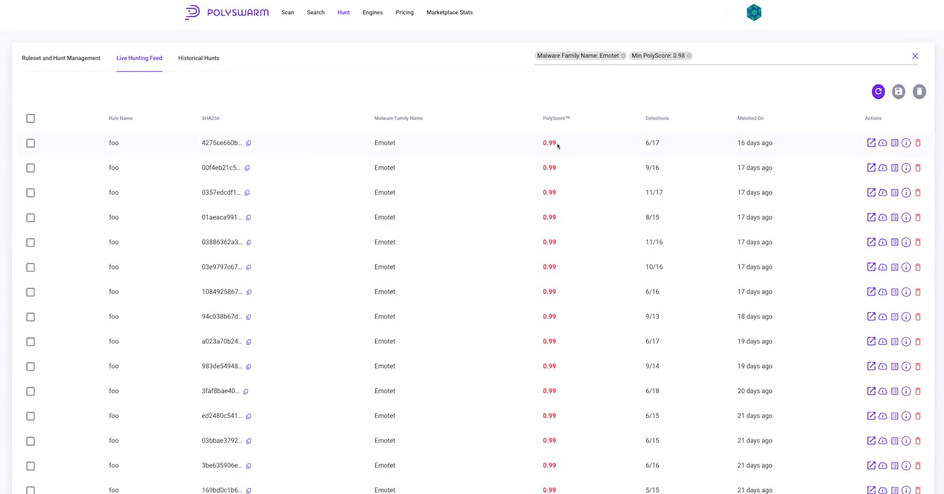 Many of you have given us feedback on our live and historical hunt functionality and we are thrilled to let you know that we are going live with your suggestions.

Below is a list of some of the noteworthy changes and improvements to both Live and Historical Hunting:
Live Hunting matches are now organized in an active real-time feed. Matches from all Live Hunts are combined into one feed.

View all matches for Live and Historical Hunts. No more limits on how many matches you can view.

Manage Live and Historical Hunt matches via enhanced filtering, easy CSV exports of bulk or single matches, and direct artifact downloads.

Simplified user interface. The layout and user interface make it easier to quickly glance over matches to find those of interest.

Historical Hunts now indicate their status and completion percentage and allow users to stop running Historical Hunts.

Historical Hunt completion summary now shows the number of matches per Rule.

Historical Hunts are now protected against run-away matching by overly-generic rules. When a Hunt reaches 10,000 matches, it will stop after completing the current batch it is processing.
Our team has created a Hunt Training Video to demonstrate how to best use the new UI and its extended functionality.

If you have any questions or would like a deeper dive, reach out to us at support@polyswarm.io and we will make it happen.

Onwards!